Origami Therapy: The Potential in a Piece of Paper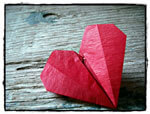 At a residential treatment center for struggling teens, students and employees learn unexpected lessons through origami therapy.
I arrive later than I meant to—it's my first academic experiential, a weekly event held by the school to give the students hands-on learning opportunities. I'm relieved to see that a few of the girls are still on the porch of the school, switching their outdoor for their indoor shoes. Someone is trying to catch a cascade of rainwater from the roof in her water bottle. "Not late," I mentally correct myself, "right on time." It's a small effort, but it brings a little relief to the nerves that have been working their insidious magic on my self-confidence for the past week, ever since Andrea–the Ranch's director–asked me to take responsibility for the parent portal. I'm here at the experiential to take pictures, though I'm no photographer, which I'll later upload to the website, though I'm no computer-genius. The voice of doubt has certainly been persistent. But once inside, where Ms. Baker is ready to begin, both my worrying and the grey storm weather are left behind, banished from the classroom by the bright table display she has set up: colorful books and a circus of little paper animals and geometric figures. Origami is the topic of the day.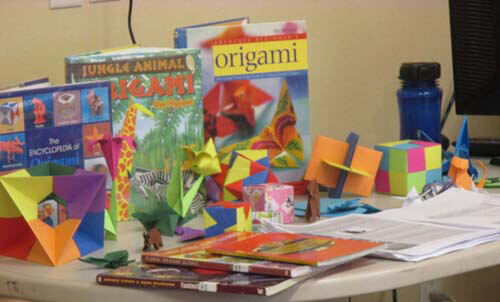 This isn't just an elementary craft activity, however; all week, the girls have been unfolding the math, science, and history behind this complex art. That exploration continues today beginning with a documentary—Between the Folds—that covers all these subjects, and especially highlights the humanity hidden in origami.
We all listen as scientists—young and old, exceptional and eccentric—explain how they are using the principles of paper folding to advance the fields of engineering and medicine. We watch, fascinated, as artists from across the world turn simple, flat (albeit very large) squares into figures so life-like they seem to breathe. The gasps and exclamations that fill the room as each intricate creation is revealed make it seem more like we are watching a magic show than a serious documentary.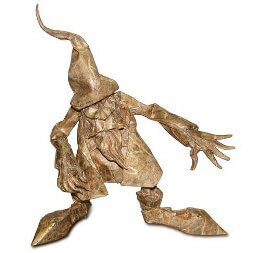 "I think" an artist states, "at heart one of the things that makes us human…is a need to change things. It's also the heart of the appeal of origami: exploring the surprising magic of just how far you can change that square, only by folding." Over and over, it's emphasized that all this metamorphosis occurs without cutting, gluing, or taping. Origami is not an additive art–like painting or a subtractive art–like carving; it's the simplest, most essential kind of transformation.
The idea seems simple enough at first, but as I give it more attention, it unfolds in layers of meaning and application. I start thinking about all my current worries and my tentative solutions to them. Feeling not quite up to snuff in my new responsibilities, I've been wondering what changes I can make to bring up the difference. And at the heart of my wondering, I realize–and it's a blow to my image of myself as an independent, principle-oriented person–is a question: who does the world want me to be, and what do I need to get rid of, or glue on, to be that person? Suddenly, I feel more like one of the students in the room than a member of the staff, and in a moment of personal clarity, I come to realize what Discovery Ranch is trying to teach all of us. And that is that we are enough, as we are–that we don't have to get rid of pounds or painful memories or personality traits or add better clothes or more accomplishments or cooler friends. We are like squares of origami paper, and all we have to do is take responsibility for folding and unfolding ourselves constantly in the discovery of what we can become.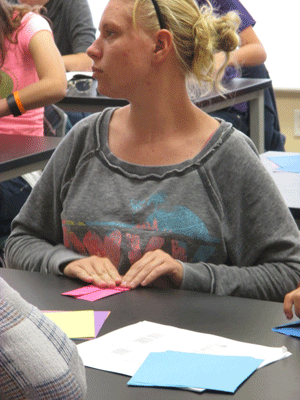 By the time the film has ended, I have a new perspective on my new job and everyone is anxious to try this process for themselves, to recreate the magic they have just witnessed with their own hands. With patience and precision, some frustration, and frequent eruptions of laughter, they discover, on their own and together, the potential in a piece of paper.
"They're sculptors and scientists, working in the shadows between art and math. Like alchemists—bringing beauty to the mundane."